Top-Quality Bespoke Kitchens In Plymouth
A&S Interiors – Kitchen Fitters In Plymouth You Can Trust!
At A&S Interiors, we understand that the kitchen is the beating heart of any home.
It's where you whip up a delicious breakfast for your child on the first day of school, celebrate achieving a new job or promotion, and share intimate meals with your loved ones. And let's not forget those simple moments of relaxation when you unwind after a long day over a home-cooked meal or a glass of red wine.
The kitchen unites people through the magic of good, homemade food, contagious laughter, and shared experiences. And when you are craving a moment of peace, it can be a tranquil space, allowing you to savour a quiet moment over your morning cup of coffee before the day begins.
That's why we've teamed up with National Symphony group to create beautiful and functional kitchens that complement your daily routine. Together, we're on a mission to provide you with stunning bespoke kitchens that are tailor-made for you.
Whether your style leans towards cosy and inviting family kitchen diners, sleek and minimalist chic, or perhaps a hint of indulgent grandeur, our designs are created to stand the test of time and capture the very essence of your home!
Why Choose Us For Fitted Kitchens In Plymouth?
We understand that renovating your kitchen can be a stressful experience, especially if you're holding down a full-time job. The kitchen installation process demands careful project management, including in-depth planning, clear communication, and an eye for detail.
We know how busy life can be, leaving you with little time to focus on your home. That's why our service takes the weight off your shoulders. We handle everything, from the initial planning stage through to the completion of your new kitchen.
Our skilled project managers work with you to turn your vision into reality. With years of experience and training under their belt, they can identify and resolve any issues before they become serious problems, saving you precious time, money, and energy.
At A&S Interiors, we believe in putting the customer first. Throughout the entire process, we'll be right by your side to ensure that your dream kitchen comes to life. We'll guarantee that every detail is completed to your satisfaction, ensuring that your schedule and budget requirements are met.
Our team will craft a beautiful, bespoke kitchen design that reflects your personality and lifestyle, to create a house that truly feels like home.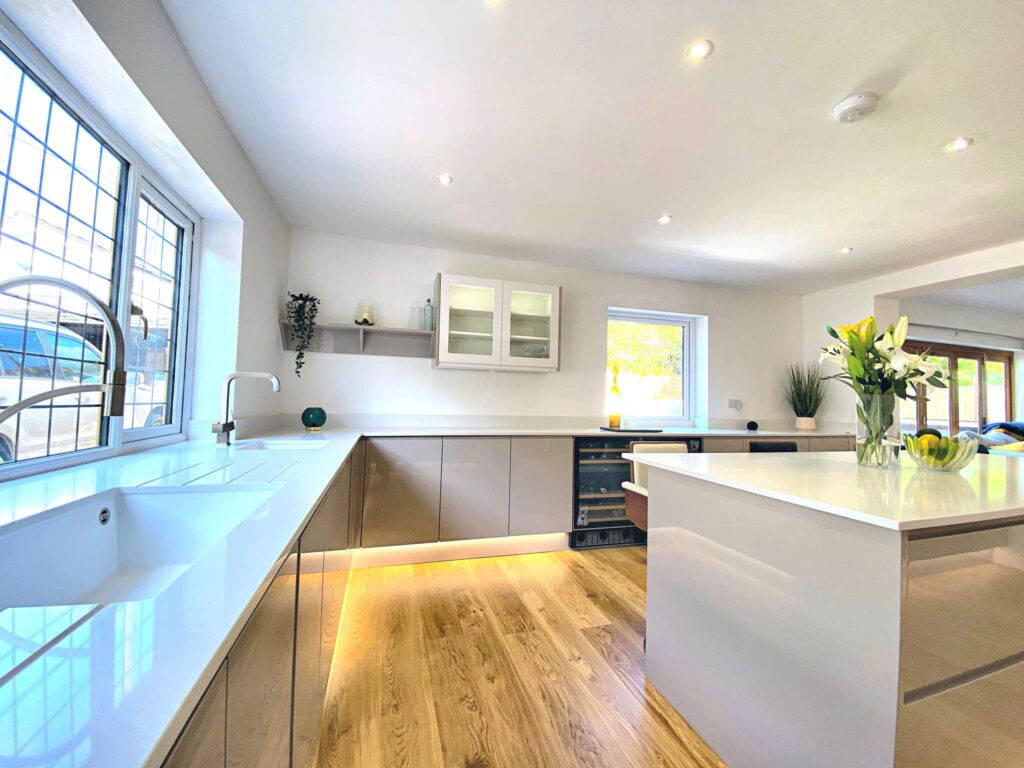 How We Create Our Beautiful Bespoke Kitchens In Plymouth
When it comes to our kitchens, we're all about nailing that perfect combination of functionality, efficiency, and eye-catching appeal for effortless and beautiful living.
Creating a kitchen is no small feat. Several considerations have to be taken into account, including the space size, layout, appliances, and overall design scheme. That's why we carefully consider several key features when drafting our plan for your space.
Here's our process for creating a stylish and functional kitchen space that's just perfect for your day-to-day life:
Layout – We create a practical work triangle between the sink, stove, and refrigerator. This setup maximises the available space and promotes efficiency in your kitchen environment.
Storage – We prioritise smart design to ensure you have ample storage space for dishes, cookware, and, of course, delicious food. Cabinets, drawers, and shelves all play a vital role in keeping things organised and easily accessible.
Worktops – Your kitchen worktops need to be durable, stylish, and a breeze to clean. We have options to suit any taste, including granite, marble, quartz, and butcher block.
Appliances – Quality and efficiency are key when selecting kitchen appliances. We consider both factors along with your specific need and source quality refrigerators, ovens, hobs, dishwashers, and microwaves that will be an asset to your kitchen.
Lighting – Good lighting is essential in a kitchen environment, which is why we ensure you have maximum visibility and safety while cooking by installing high-quality lighting fixtures. Using our lighting, you have the option to create a warm and inviting atmosphere by adjusting the ambient, task, and accent lighting.
Colour and Style – Your kitchen should be a reflection of your taste, while also complementing your overall home design. We can help you to choose the colour and style for that perfect match which makes your kitchen shine!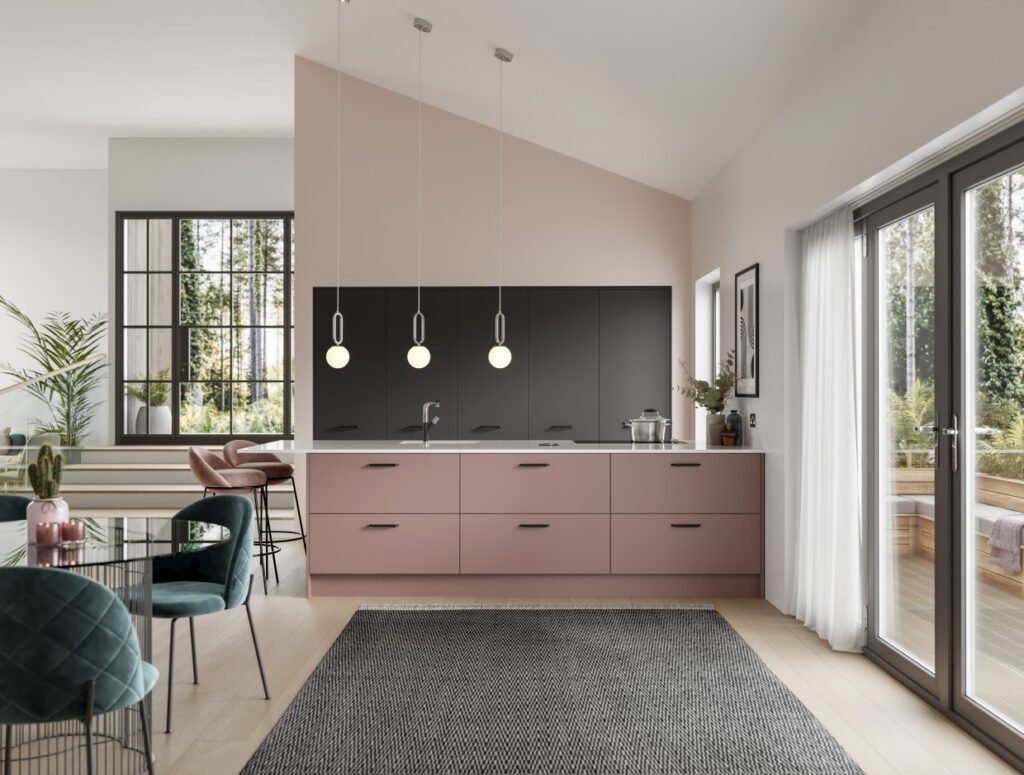 The Kitchen Design And Installation Process
Achieving that stunning new kitchen setup involves a few essential steps: design, planning, and installation.
Most importantly, it's all about creating the perfect kitchen layout. Your designer will craft a floor plan that optimises the available space, factoring in important elements like worktops, cabinets, appliances, and lighting. You can choose from options ranging from classic choices like wood and laminate to elegant selections like granite, marble, quartz, and tile – these materials will form the foundation of your cabinets, worktops, flooring, and backsplash.
Once the materials are chosen, it's time to begin the installation process.
We carefully measure, cut, assemble, and secure the cabinets and worktops, ensuring a precise fit that meets your specific requirements. Worktops are typically installed after the cabinets, allowing for customisation according to your needs.
Then, we install the all-important appliances. We expertly handle the placement of appliances and take care of any necessary plumbing or electrical fixtures.
Finally, we add those all-important finishing touches that give your kitchen that polished and sophisticated look it deserves.
With meticulous attention to detail at every step, we're here to make sure your new kitchen not only meets – but exceeds – your expectations. You are now ready to enjoy a kitchen that's both functional and stylish, tailored to your unique taste and needs!
About A&S Interiors
At A&S Interiors, we're proud to be part of the A&S Southwest family. Our skilled and dedicated team is here to offer a wide range of home improvement services across Devon.
Through our collaboration with the Symphony Group, we bring you quality bespoke kitchen solutions; our services go beyond just design and installation – we provide a complete package of expertise and craftsmanship.
Imagine your kitchen transformed into a luxurious and functional space that effortlessly combines convenience and style in your everyday life. Our expert team is here to make that vision a reality!
We believe in putting our customers first, so we involve you every step of the way, prioritising your satisfaction throughout the entire home improvement process.
As a local, family-run company, we understand the importance of a friendly and personal touch, so you can feel confident that your home is in the safest of hands.
Contact Us If You Need Expert Kitchen Fitters In Plymouth!
Contact Us!
We pride ourselves on being an approachable, local business that would love to talk about your project. Get in touch and we will get back to you as soon as we can
Copyright © 2023 A&S Interiors LTD | Designed and Maintained by R50 Marketing