Top-Quality Kitchen Designers In Exeter
A&S Interiors – Expert Kitchen Installation In Exeter That You Can Trust
At A&S Interiors, we understand and embrace the significance of the kitchen as the heart and soul of a home.
It is within these walls that countless cherished moments unfold. Whether it's the joy of preparing your child's breakfast before school, the elation of celebrating a new job offer around the breakfast table, the intimacy of sharing a meal with a loved one, or the solace found in creating a beautiful dish after a long day's work, the kitchen holds the power to capture our most treasured memories.
The kitchen, with its inviting atmosphere, has the remarkable ability to bring people together through the art of cooking, offering not just nourishment but also the ingredients for laughter and love. Yet, it is also a sanctuary when we seek solace in solitude.
Within its walls, one can find a sense of tranquillity, savouring a moment of peace while sipping morning coffee before the hustle and bustle of the day begins.
Why Choose Us For Kitchen Design In Exeter?
Embarking on a kitchen renovation can be highly demanding, as the process of installing a new kitchen requires careful attention and can often be accompanied by stress. It entails meticulous project management, involving strategic planning, effective communication, and unwavering focus on the smallest of details.
We understand that you lead a busy life and may struggle to find the time to invest in your home. That's precisely why our service aims to take the pressure from your shoulders by assuming full responsibility for the entire installation of your new kitchen, from the initial planning stages all the way through to its final completion.
Our team of skilled project managers is dedicated to transforming your vision into a tangible reality. And by proactively identifying and resolving any potential obstacles before they have a chance to manifest, we save you precious time, money, and energy.
At the heart of our service is our unwavering commitment to providing customer-centred solutions. We firmly believe in working closely with you, every step of the way, to ensure that your kitchen renovation is executed to your utmost satisfaction while adhering to your timelines and budgetary constraints.
Above all, our goal is to help you transform your house into a genuine home, one that reflects your unique personality and seamlessly harmonises with your lifestyle. In short, our team is passionate about designing a kitchen that perfectly complements who you are and how you live.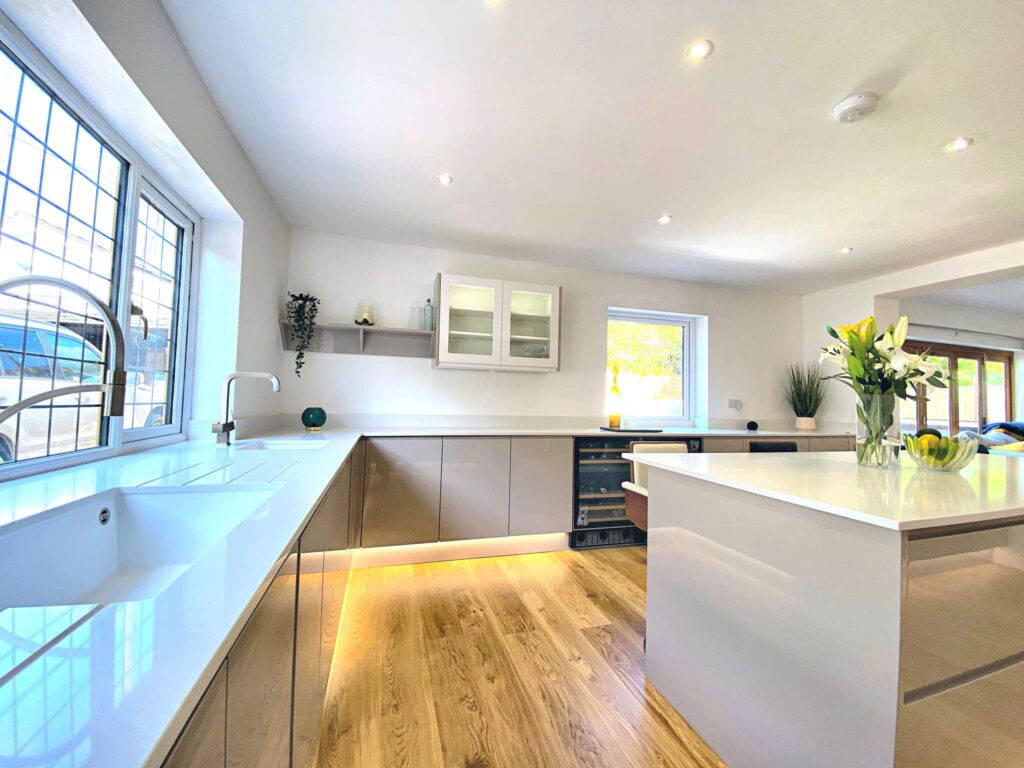 Unique Designs And Expert Kitchen Installation In Exeter
Our kitchens are designed using principles of functionality, efficiency, and visual appeal to create quality installations that are a delight to use, day after day.
When creating a kitchen, there are many elements to be considered, such as the size and layout of the space, the required appliances, and overall design scheme. That's why we take several key features into account when creating our plan.
These include:
Layout – A work triangle should be created between the sink stove and refrigerator to maximise available space and promote efficiency in the kitchen environment.
Storage – Storage space should be a priority in the kitchen, promoting efficiency and functionality through smart design. In particular, cabinets, drawers, and shelves will be used to effectively store dishes, cookware, and food.
Worktops – Kitchen worktops should be hard-wearing, stylish, and easy to clean. Granite, marble, quartz, and butcher block options are popular choices amongst our customers.
Appliances – Kitchen appliances should be selected based on quality and efficiency, as well as the individual specifications of the user. Common kitchen appliances will include refrigerators, ovens, hobs, dishwashers, and microwaves.
Lighting – In a kitchen, it is crucial to have effective lighting for maximum visibility and safety while cooking. In addition, a warm and inviting atmosphere can be created by using a combination of ambient, task, and accent lighting.
Colour And Style – When choosing the colour and style for your kitchen, it's important to consider your personal preferences, and how this integrates with the overall design of your home.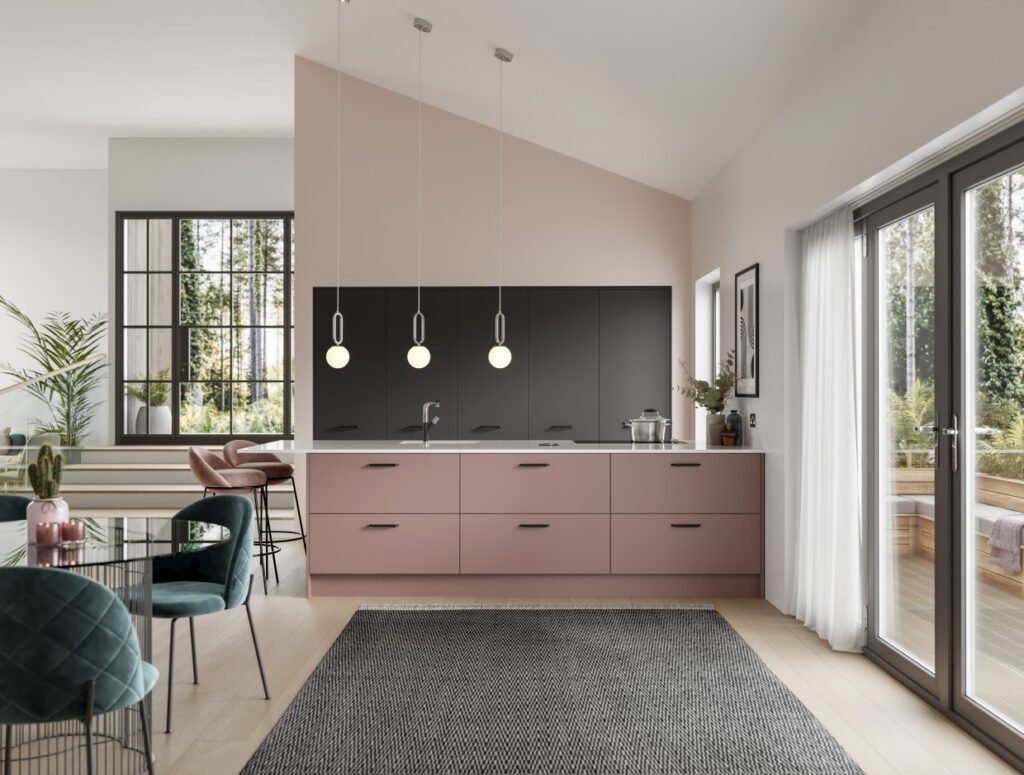 The Kitchen Design And Installation Process
Achieving a top-quality new kitchen setup involves following a series of steps that cover design, planning, and installation.
To begin, our talented designers will collaborate with you to create a meticulously planned kitchen layout, taking into account the available space and then strategically maximising it by incorporating essential features such as worktops, cabinets, appliances, and lighting.
During this phase, you will be able to choose from a wide range of materials for your kitchen, which will serve as the foundation for your cabinets, worktops, flooring, and backsplash. Popular choices at this stage include wood, laminate, granite, marble, quartz, and tile.
Once the materials have been selected, we can proceed with the installation process. Now, our skilled team will expertly measure, cut, assemble, and secure the cabinets and worktops in place. Typically, we install the worktops after the cabinets, ensuring a seamless fit tailored to your specific requirements.
Next, we will take care of installing the appliances and any necessary plumbing or electrical fixtures. This crucial step brings your kitchen to life, ensuring that everything is functioning flawlessly. Finally, we add the finishing touches that elevate the overall aesthetic, giving your kitchen a refined and polished appearance.
From design to installation, we are committed to delivering a quality kitchen setup that exceeds your expectations!
About A&S Interiors
A&S Interiors are proud to be a part of A&S Southwest. With our dedicated and experienced team, we offer a diverse range of home improvement services throughout Devon. Through our collaboration with Symphony Group, we can bring you the finest quality bespoke kitchen solutions, complete with specialist design and installation services.
In addition, what sets us apart from our competitors is our unwavering commitment to providing a professional and client-centred service. We also believe in the power of customer involvement and satisfaction throughout the entire home improvement process, which is why the preferences and vision you have for your space are of paramount importance to us, and the reason we strive to ensure that every step of the process aligns with your desires.
Being a local, family-run company, we bring a friendly and personal touch to our services, so you can rest assured knowing that your home is in the safest of hands. We value the trust you place in us and are dedicated to delivering exceptional results that exceed your expectations!
Contact Us If You Need Expert Kitchen Designers In Exeter!
Contact Us!
We pride ourselves on being an approachable, local business that would love to talk about your project. Get in touch and we will get back to you as soon as we can
Copyright © 2023 A&S Interiors LTD | Designed and Maintained by R50 Marketing