Beautiful Bespoke Kitchens In Exeter
A&S Interiors – Experienced, Friendly Kitchen Fitters In Exeter Who You Can Trust
At A&S Interiors, we believe the kitchen is the heart of the home.
From cooking your child their breakfast on their first day of school, to opening confirmation of a new job over the breakfast table, sharing an intimate meal with a loved one, or unwinding by making a beautiful meal after work, the kitchen can be the setting for some of our most precious memories.
The kitchen area can bring people together with good, home-cooked food, laughter, and love. And when we are alone, it is a space of tranquillity, a space where you can enjoy a moment of peace over your morning coffee before the day begins.
That's why A&S Interiors have partnered with National Symphony group to provide beautiful bespoke kitchens, uniquely tailored to the people who use them.
Whether you prefer comfortable and welcoming family kitchen diners, minimalist chic, or perhaps a touch of grandeur, we design and create timeless designs that capture the spirit of your home, bringing people together for generations to come!
Why Choose Us For Fitted Kitchens In Exeter?
Planning a kitchen renovation can be a time-consuming and stressful process. Kitchen installation requires meticulous project management throughout the procedure, which includes careful planning, clear communication, and close attention to detail.
We understand that many homeowners lead busy lives and may find it difficult to find the time to invest in their homes. That's why our service takes the pressure off your shoulders by managing all aspects of the installation of your new kitchen, from the planning stage, though to the final completion of the project.
Our skilled project managers can help you to turn your vision into reality by identifying and resolving any potential issues before they become a problem, saving you valuable time, money, and energy.
We are dedicated to providing customer centred service, and will work closely with you every step of the way to ensure that your kitchen is completed to your satisfaction, while keeping within time and budget restraints.
And most importantly, we help you to make your house a home, by designing a kitchen which perfectly complements you and your lifestyle!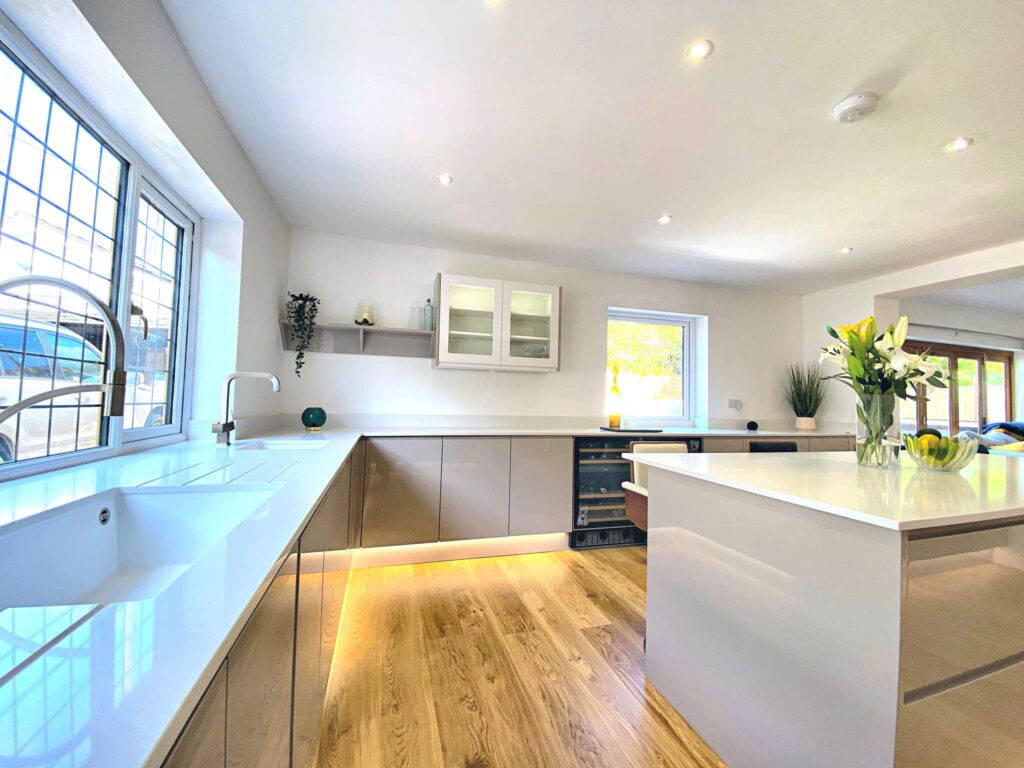 Expert Kitchen Fitters And One Of A Kind Design
Our kitchens are designed using principles of functionality, efficiency, and visual appeal to create quality installations that are a delight to use, day after day.
When creating a kitchen, there are many elements to be considered, such as the size and layout of the space, the required appliances, and overall design scheme. That's why we take several key features into account when creating our plan.
These include:
Layout – A work triangle should be created between the sink stove and refrigerator to maximise available space and promote efficiency in the kitchen environment.
Storage – Storage space should be a priority in the kitchen, promoting efficiency and functionality through smart design. In particular, cabinets, drawers, and shelves will be used to effectively store dishes, cookware, and food.
Worktops – Kitchen worktops should be hard-wearing, stylish, and easy to clean. Granite, marble, quartz, and butcher block options are popular choices amongst our customers.
Appliances – Kitchen appliances should be selected based on quality and efficiency, as well as the individual specifications of the user. Common kitchen appliances will include refrigerators, ovens, hobs, dishwashers, and microwaves.
Lighting – In a kitchen, it is crucial to have effective lighting for maximum visibility and safety while cooking. In addition, a warm and inviting atmosphere can be created by using a combination of ambient, task, and accent lighting.
Colour And Style – When choosing the colour and style for your kitchen, it's important to consider your personal preferences, and how this integrates with the overall design of your home.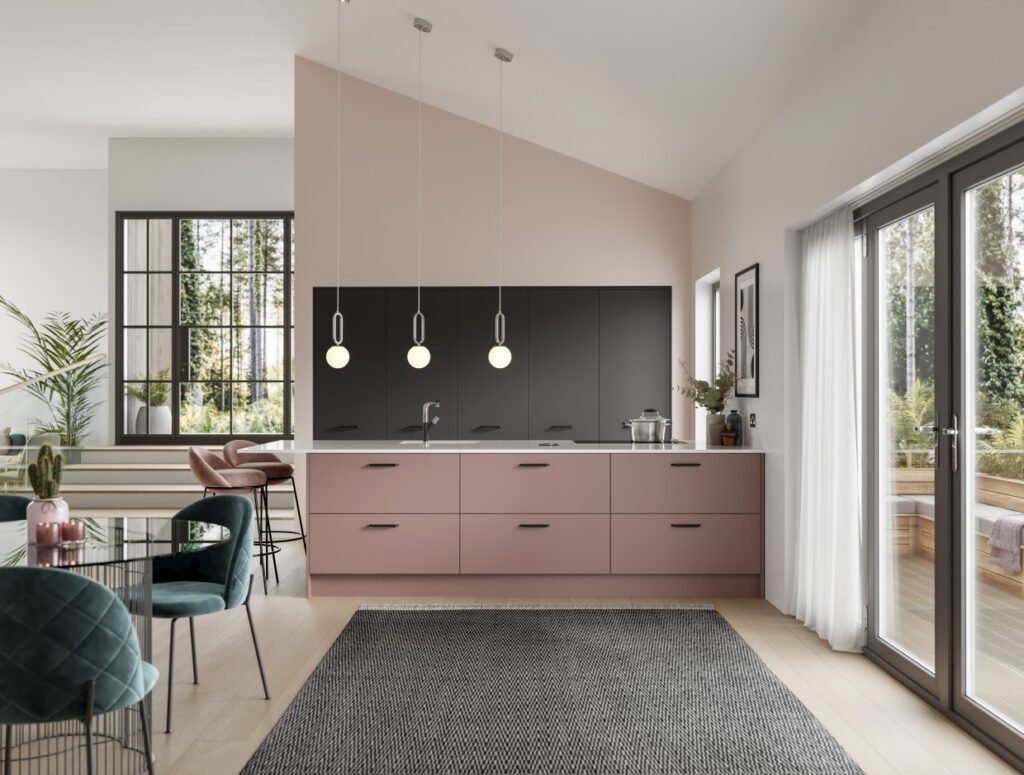 The Installation Process
There are several steps to achieving a quality new kitchen setup: design, planning, and installation.
The first step is to design the kitchen layout; here, your designer will create a floor plan that maximises the available space, considering essential features such as the worktops, cabinets, appliances, and lighting. You will then be given a choice of materials to work from, which will form the basis for the cabinets, worktops, flooring, and backsplash; this may include popular choices such as wood, laminate, granite, marble, quartz, and tile.
When the materials are selected, we can then begin the installation process.
Firstly, the materials for the cabinets and worktops will be measured and cut, assembled, and secured to the wall. We usually install worktops after the cabinets; these can be cut to any size according to your requirements.
Then, we simply install the appliances and any necessary plumbing or electrical fixtures, and add the finishing touches for a polished appearance!
About A&S Interiors
A&S Interiors are proud to be a part of A&S Southwest. With our dedicated and experienced team, we offer a diverse range of home improvement services throughout Devon.
Through our collaboration with Symphony Group, we can bring you the finest quality bespoke kitchen solutions, complete with specialist design and installation services.
Our expert team can transform your kitchen area into a luxurious and functional space that promotes convenience and effortless style in everyday life. And with our professional and client-centred service, we prioritise customer involvement and satisfaction throughout the entirety of the home improvement process.
As a local, family-run company, we provide a friendly and personal touch, so you know your home is in the safest of hands!
Contact Us If You Need Expert Kitchen Fitters In Exeter!
Contact Us!
We pride ourselves on being an approachable, local business that would love to talk about your project. Get in touch and we will get back to you as soon as we can
Copyright © 2023 A&S Interiors LTD | Designed and Maintained by R50 Marketing